Choosing the right breast implants is one of the most exciting parts of planning for breast augmentation surgery. For our Brooklyn and Staten Island, New York, patients, finding the perfect implant is the first step toward creating the body of their dreams. However, breast augmentation is not a one-size-fits-all procedure, and many aspects can be customized to each person's needs. As a woman living in a bustling city, you may be wondering which type will best suit your urban lifestyle and aesthetic goals. 
There are many different factors to consider when beginning your breast implant research. Here are a few important things to know when considering breast augmentation.
What is breast augmentation?
Breast augmentation is a popular cosmetic procedure that uses implants to add volume to the breasts. Some women are drawn to the procedure because they have always wanted bigger breasts, while others want to correct a "deflated" appearance from weight loss or pregnancy. Breast augmentation can also balance out asymmetrical breasts or make the breasts more proportional to the rest of the body. At my practice, our goal is to create natural-looking results that enhance your beauty without looking "worked on" or "overdone." 
What are my breast implant options?
At our Staten Island practice, we offer a wide range of implant types to suit your personal preference.
First, it is important to know that implants aren't measured in traditional cup sizes but rather in cubic centimeters (cc).
If you're hoping to achieve a certain look, bring in a reference photo of a woman with the breast size you'd like to have. We can use that photo as a starting point to decide the right implant size for your needs.
Beyond implant volume, the other most important detail is implant fill material. We offer both saline-filled and silicone-filled breast implant options. Silicone is a thick, gel-like material, while saline is purified saltwater. Each of these materials provides a different look and feel to address your own specific goals.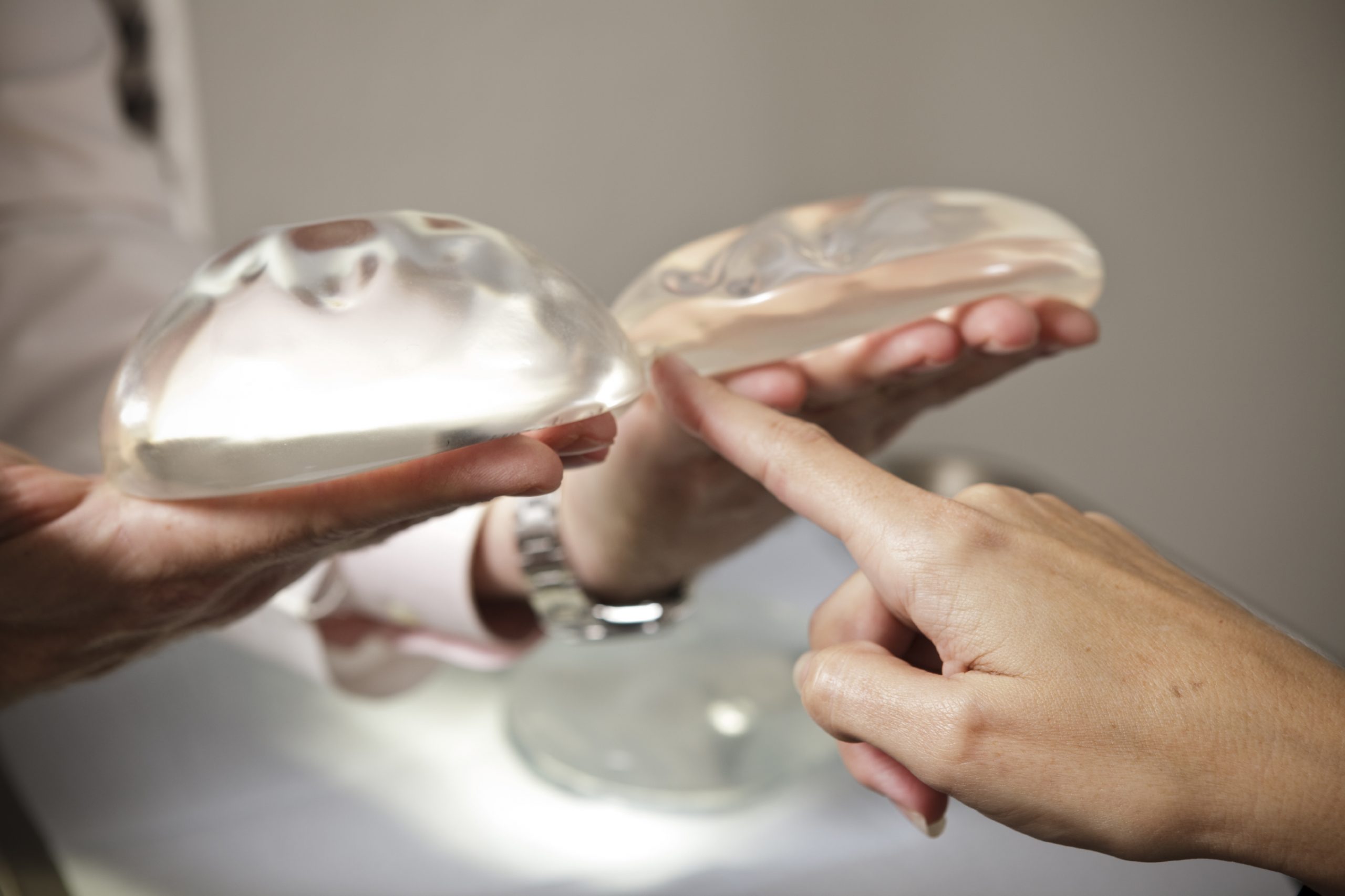 How do I choose the right breast implants?
Just as no two women are exactly alike, each breast augmentation procedure is unique. If you're a mature woman in Staten Island, your needs may be different from the needs of a young working professional in Brooklyn. Finding the right type of breast implants often depends on the lifestyle you lead. Take a look below at a few lifestyle choices and life stages that may influence the type of breast implant you choose.
Physically Active
Many New Yorkers lead busy lifestyles while always trying to look and feel their best. If you work out often, you want natural-looking breasts that won't get in the way during your gym session. Silicone implants are a good choice for this lifestyle as they're lightweight and move well during high-impact exercises. They also won't "slosh" when running or moving because the thick gel holds firm and keeps its shape. 
Recently Had a Baby
Pregnancy can take a toll on the body, and this is especially the case after breastfeeding. Women often report that their breasts look "deflated" and lose their natural volume after pregnancy. Choosing an implant with a higher profile can accommodate this problem. High-profile implants project farther from the chest and add extra youthful fullness to the upper part of the breast. 
Younger Women
Women from all walks of life can enjoy breast augmentation, including younger patients. While silicone implants are only allowed for those 22 and older, saline implants are FDA approved for anyone over 18. If you're in this younger category, you can also enjoy the fact that saline implants start at a lower price. They are easier to replace if they fail, so there is no need to "upgrade" at a later time.
Mature Women
While younger patients may enjoy more dramatic results, mature women often want a subtle, natural approach. Silicone implants provide a more realistic look and feel and have less chance of visible rippling. They start at a higher price, but most women find the investment worth it. You can also choose a teardrop-shaped implant for more natural, even fullness along the lower breast. 
How can I make my breast implants last as long as possible?
Breast implants don't have an "expiration date," but they do naturally age over time. They won't last forever, but you have some influence over one important factor: the appearance of your implants. The majority of women who choose breast augmentation revision do so because they want to change the appearance of their implants, not because there's a problem. When undergoing surgery, choose an implant that suits your lifestyle and frame, and you'll be happy with your results for years to come.
Browse our before-and-after gallery to see real examples of past breast augmentation patients. If you're looking for an experienced breast surgeon in the Staten Island or Brooklyn area and would like to learn more about the procedure, please request a free consultation online or call (718) 720-9400.