Louis C. Cutolo, Jr., M.D., F.A.C.S.
1557 Victory Boulevard
Staten Island, NY 10314
Phone: (718) 720-9400
Tuesday, Thursday, Saturday
10:00 a.m.–5:00 p.m.

Injectable Fillers
Sun exposure, genetics, and other factors can result in volume loss under your eyes and in your cheeks and lips that makes you look much older. For smooth, youthfully full skin, Dr. Cutolo uses injectable dermal fillers such as JUVÉDERM® and RADIESSE® for our Brooklyn and Staten Island patients.
Take the first step to looking as young and positive as you feel. Request a complimentary consultation online, or call us today at  (718) 720-9400 to schedule a visit.
Dermal Fillers

Before & After Photos

Keep in mind that each patient is unique and your results may vary.

Before & After
Case #11
This is a 40-year-old female in good health who disliked the overall shape, projection and fullness of her lips. She wanted to improve the fullness and shape but did not want her lips to look too large. She is an excellent candidate for lip enhancement because her lips have a pleasing shape. She has a well-defined cupid's bow. 1 syringe of...
Read More
Keep in mind that each patient is unique and your results may vary.
Who Is a Good Candidate for Dermal Fillers?
You may benefit from facial fillers if you want to (see illustration):
Enhance thin lips by plumping them
Restore volume to the cheeks
Fill in folds and creases
Add volume to under-eye hollows
To achieve a more complete facial rejuvenation, Dr. Cutolo may recommend other complementing treatments, such as chemical peels, fat transfer, or BOTOX® Cosmetic with your Staten Island dermal filler treatment.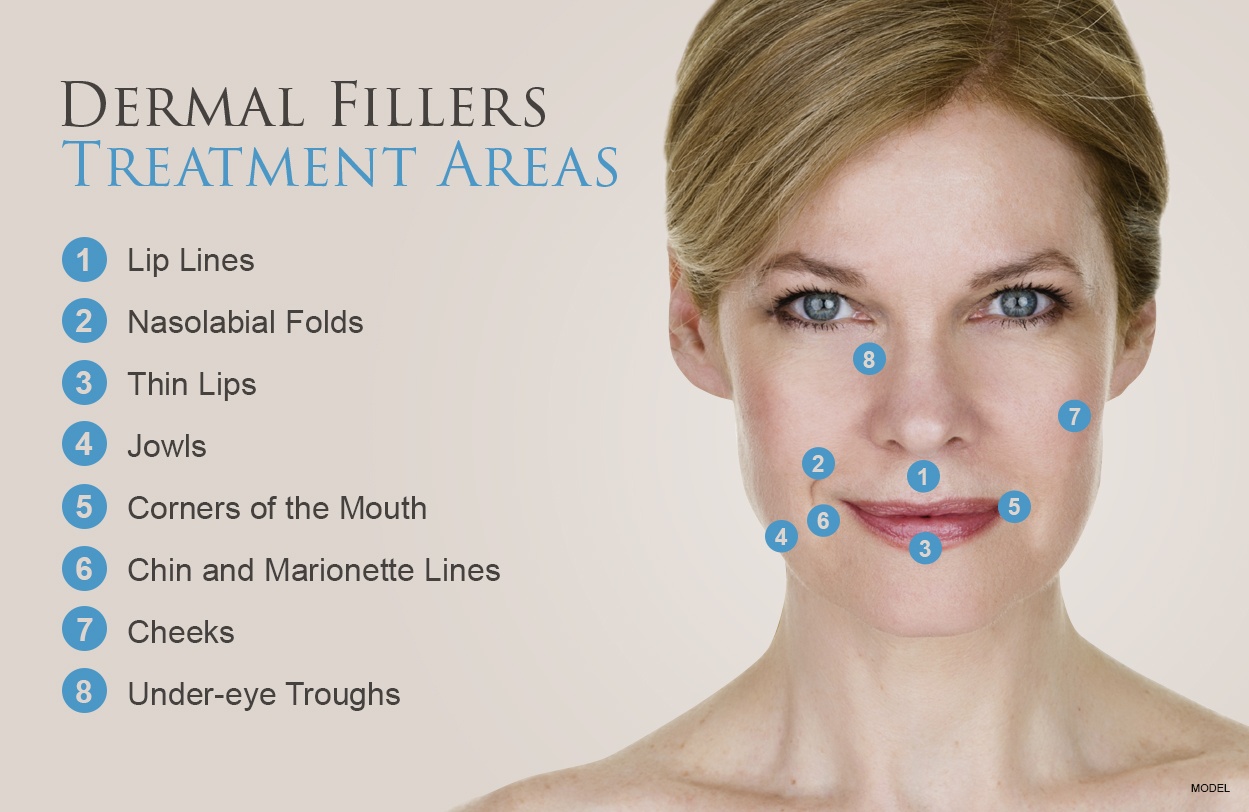 Your Dermal Filler Procedure
Dr. Cutolo first evaluates your skin tone and areas of concern to determine the best injectable fillers for your aesthetic goals. Among the options are:
A facial filler made of hyaluronic acid, such as BELOTERO BALANCE® or JUVÉDERM, which can last 6 months or longer. These fillers may be used for wrinkles and furrows or to plump thin lips.
JUVÉDERM VOLUMA® XC is a thicker kind of hyaluronic acid filler that is specifically designed for deep injection into the cheeks, where volume commonly decreases with age and causes a sunken look. VOLUMA XC provides a subtle and natural-looking lift for plump cheeks.
RADIESSE, which is made of hydroxylapatite and used for nasolabial folds, frown lines, and volume loss. Because it stimulates collagen production, which results in smoother skin, the results are both immediate and sustained and can last up to one year.
After analyzing your face, Dr. Cutolo cleanses the targeted sites with an antibacterial agent. If the filler does not contain an anesthetic, Dr. Cutolo may administer a local anesthetic to those regions. The treatment is typically short, depending on the number of injections and areas to be treated.
Dr. Louis C. Cutolo Jr.
A board-certified plastic surgeon in Staten Island, Dr. Louis Cutolo, Jr. is an active member of both the American Society of Plastic Surgeons and The American Society for Aesthetic Plastic Surgery and a Fellow of the... read on
Meet Dr. Cutolo
Dermal Filler Recovery
There is no downtime needed after dermal filler treatments; however, you should hold off on strenuous activities for about 24 hours. Some patients experience mild swelling or bruising. These minor side effects typically subside within a few hours, and can be minimized with the use of ice applied to the region.
Results From Dermal Fillers
After your treatment, you can expect to look revitalized and refreshed right away. Depending on the areas you had treated, your lips may appear fuller and your facial lines softened, with more youthful-looking contours.
How Long Do Dermal Fillers Last?
Although fillers aren't permanent, they can create very long-lasting results. Depending on which products you used and where on your face they were applied, you can expect to enjoy your new look for between 6 months and 2 years. During your visit, Dr. Cutolo gives you a more personalized idea of the results you can expect and how frequently you should return to maintain the results.
Frequently Asked Questions
What's the difference between fillers and BOTOX?
At first glance, these injectable products are similar. However, their mechanisms of action are quite different from each other. Fillers add volume where they're applied, making them ideal for treating the gaunt or drooping appearance that often comes with age. They also fill in wrinkles, smoothing their appearance. On the other hand, BOTOX slows down muscle activity, reducing the appearance of wrinkles that are caused by movement. It's commonly applied to crow's feet and forehead lines.
---
Do filler injections hurt?
Not really. If you typically tolerate other types of injections well, you likely won't be bothered much by your filler treatment. An added benefit of filler injections is that most come pre-formulated with a local anesthetic. If your filler doesn't have anesthetic, we apply a topical product to your skin prior to your procedure. Either way, the addition of a numbing agent can significantly improve your comfort.
---
How safe are dermal fillers?
All the dermal fillers that Dr. Cutolo offers are approved by the FDA, which means their safety and efficacy have been well-established. There is no evidence that short or long-term use of dermal fillers cause medical problems for qualified patients. Over time, the active ingredients in fillers are harmlessly processed by your body and filtered away.
Back to Top