Louis C. Cutolo, Jr., M.D., F.A.C.S.
1557 Victory Boulevard
Staten Island, NY 10314
Phone: (718) 720-9400
Tuesday, Thursday, Saturday
10:00 a.m.–5:00 p.m.

miraDry®
Unwanted, excessive sweating can ruin more than just clothes. If antiperspirants and good hygiene aren't enough to keep you cool and dry, you may have a condition called hyperhidrosis. Characterized by excessive sweating, underarm hyperhidrosis affects many people throughout the country — but it's not always easy to talk about. To control excessive sweating and odor, board-certified plastic surgeon Dr. Louis Cutolo recommends a noninvasive treatment called miraDry to his patients from Staten Island, Brooklyn, Queens, and throughout NYC.
Dr. Cutolo and his caring staff make it easy to be your best. Request a complimentary consultation online, or call us at  (718) 720-9400 to set up your appointment.
Who Is a Good Candidate for miraDry?
Candidacy for miraDry is fairly straightforward. Because it's noninvasive and doesn't use chemicals, miraDry is a good choice for anyone bothered by excessive or severe underarm sweating and the accompanying odor. Common concerns include:
Embarrassment in social situations
Frustration due to stained clothing or smell
Avoidance of certain clothing styles and fabrics
During your consultation, Dr. Cutolo discusses your concerns, lifestyle, medical history, and long-term goals, working with you to develop an ideal treatment plan.
The miraDry Procedure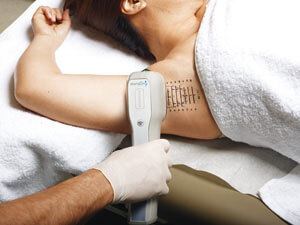 Brief and noninvasive, a miraDry treatment lets you get back to your regular activities in very little time. During the procedure, Dr. Cutolo guides the miraDry handpiece over your underarms, precisely directing microwave energy to the sweat glands beneath the skin. This deactivates the glands, leading to a significant reduction in sweat production and odor. The procedure lasts about an hour.
How Painful Is the miraDry Procedure?
There is typically no discomfort during miraDry treatments. We administer a local anesthetic to keep you as comfortable as possible. The miraDry handpiece cools the skin during treatment for added comfort.
How Long Does It Take to Heal From miraDry?
There's no significant recovery period after miraDry, which is one of the reasons it's such a popular choice among excessive sweating and hyperhidrosis patients here in Staten Island. You may experience some mild redness or stinging, but you can get back to work, errands, and other activities immediately after your appointment. You can begin exercise and other strenuous activities within a few days. Dr. Cutolo may recommend over-the-counter pain relievers or cold compresses to keep you comfortable after your treatment.
Does miraDry Actually Work?
Because miraDry deactivates the treated sweat glands, underarm sweating is vastly reduced or even stopped completely, with results that are usually long lasting. As an added benefit, miraDry treatments reduce underarm hair for many patients regardless of skin type and hair color.
This creates a significantly improved quality of life for most patients. These individuals are no longer worried about unsightly sweat stains and can enjoy their favorite activities and outfits free of stress and frustration.
How Long Does miraDry Last?
Damaged sweat glands do not grow back so miraDry results are long lasting.
Dr. Louis C. Cutolo Jr.
A board-certified plastic surgeon in Staten Island, Dr. Louis Cutolo, Jr. is an active member of both the American Society of Plastic Surgeons and The American Society for Aesthetic Plastic Surgery and a Fellow of the... read on
Meet Dr. Cutolo
Frequently Asked Questions
Don't I need my sweat glands?
Sweating is, indeed, how we regulate our temperature and keep ourselves cool. However, the human body has millions of sweat glands located from head to toe, with only a small fraction of them located in the underarms. miraDry is perfectly safe and does not interfere with the body's ability to cool itself.
How much does miraDry cost?
The cost of a miraDry procedure depends on the severity of your condition, so it's difficult to offer an exact number. During your consultation, we'll provide you with a written quote to help you plan your treatment. Learn more about our financing policies.
Can miraDry be used to treat other areas of the body?
Presently, miraDry's handpiece is only appropriate for the underarms. If you're bothered by excessive sweating in other areas of your body, Dr. Cutolo may recommend a different treatment option, such as BOTOX® Cosmetic.
Back to Top