Louis C. Cutolo, Jr., M.D., F.A.C.S.
1557 Victory Boulevard
Staten Island, NY 10314
Phone: (718) 720-9400
Tuesday, Thursday, Saturday
10:00 a.m.–5:00 p.m.

Tummy Tuck
Life changes such as weight fluctuations, pregnancy, and aging can result in frustrating fat deposits, sagging skin, and lax tummy muscles. Even the most diligent diet and focused fitness plan are not always enough to correct those problems. Board-certified plastic surgeon Dr. Louis Cutolo performs abdominoplasty, often called a tummy tuck, to help people from Staten Island, Brooklyn, Queens, and Long Island attain the smooth, firm abdomen they desire.
Take the first step to achieving that flat, taut stomach. Request a complimentary consultation online, or call us today at  (718) 720-9400 to schedule a visit.
Who Is a Good Candidate for a Tummy Tuck?
Typically, tummy tuck patients should be nonsmokers who are in good physical and mental health. Most are women who have had children or individuals who have undergone significant weight changes. A tummy tuck may help if:
Dieting and exercise have not succeeded in reducing fat deposits or correct concerns such as sagging, excess skin
You achieved a substantial weight reduction, but have loose skin and areas of remaining fat as a result
Your stomach muscles have become loose or lax from pregnancy
You are in good physical condition and your weight is stable
Dr. Louis C. Cutolo Jr.
A board-certified plastic surgeon in Staten Island, Dr. Louis Cutolo, Jr. is an active member of both the American Society of Plastic Surgeons and The American Society for Aesthetic Plastic Surgery and a Fellow of the... read on
Meet Dr. Cutolo
How Is a Tummy Tuck Performed?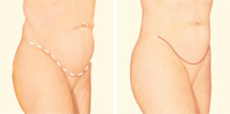 Dr. Cutolo performs tummy tuck surgery at Staten Island-area hospitals. General anesthesia is used to ensure the highest level of safety and comfort. Most patients are able to return home the same day. An overnight stay can be arranged should you so desire.
Dr. Cutolo starts the procedure by making a horizontal incision just above the pubic area. He then removes excess skin and fat before strengthening weakened abdominal muscles with internal sutures. A small incision is made around the navel to maintain its central location and keep its appearance both natural and youthful. Your skin will be smoothed and your incisions sutured before you're moved to a comfortable recovery area.
What Can I Expect After a Tummy Tuck?
Dr. Cutolo will provide you with detailed guidelines on what to anticipate during your recovery process. Immediately after your operation, light activity will be encouraged in order to facilitate the healing process and help prevent the formation of blood clots. You may experience some swelling and soreness, which can be managed with prescription medication from Dr. Cutolo. He will also prescribe antibiotics to avoid infection.
Get the Most From Your Recovery
Avoid activities that require you to lift heavy items, bend, or stoop.
Enlist a friend or family member to help you with housework, childcare, and errands.
Keep nutritious, low-sodium snacks on hand.
Ask Dr. Cutolo about topical scar care products that might work for you.
How Long Does It Take to Recover From a Tummy Tuck?
In approximately 2 weeks, most patients are back to work and their daily routine; however, experiences vary. More rigorous activities and exercise can typically be resumed after about 6 weeks. Dr. Cutolo will discuss all of the post-operative care instructions with you at your pre-op appointment.
How Much Weight Do You Lose After a Tummy Tuck?
It's important to note that a tummy tuck is not a treatment for obesity. Most candidates have either had children or undergone significant weight reduction, and have been left with sagging skin around their abdomens and bulging abdominal muscles. Minor, residual fat deposits can also be addressed with liposuction during a tummy tuck.
Tummy Tuck Results and Benefits
Dr. Cutolo's tummy tuck patients enjoy a smooth, firm, stomach, and more shapely profile. The scars from a tummy tuck can usually be hidden by underwear or a bathing suit. By following a healthy diet and sensible exercise program, you can enjoy the results of your tummy tuck indefinitely.
Frequently Asked Tummy Tuck Questions
What will happen at my tummy tuck consultation?
During your initial consultation for tummy tuck surgery, Dr. Cutolo review your medical history and talk with you about your lifestyle and motivations for the surgery. It's important to be honest when you answer these questions because false answers could affect his surgical plan and not provide you with an optimal outcome!
Dr. Cutolo will also perform a brief physical examination of your abdomen in order to evaluate your skin elasticity, muscle tone, and other factors. The consultation is a good time to ask the doctor questions about the procedure. Dr. Cutolo will work with you to develop a surgical plan that provides the best results for your body and lifestyle.
Can I have children after a tummy tuck?
It's perfectly safe to become pregnant after tummy tuck surgery. However, Dr. Cutolo typically advises against it because pregnancy can affect your cosmetic outcome. More specifically, pregnancy can loosen the abdominal muscles that were surgically tightened and can cause the skin to expand, potentially necessitating revision surgery if you wish to maintain your original results. If you're considering a tummy tuck but are planning to become pregnant in the future, share your concerns with Dr. Cutolo during your consultation. He may recommend alternative procedures to give you the results you want while you continue to grow your family.
Do tummy tuck scars go away?
Scarring is a major concern among most tummy tuck patients. A typical tummy tuck requires a horizontal incision that extends from hip to hip, plus a small incision around the navel to reshape it. Dr. Cutolo makes the primary incision as low as possible, which results in a scar just above the pubic area. Over time, and with proper postsurgical care, this incision flattens and fades, and its position makes it easy to hide beneath clothing and most swimwear. Once healed, the small navel scar is not typically visible since it's hidden within the belly button. To see the scars of some of Dr. Cutolo's previous tummy tuck patients, visit our before-and-after photo gallery.
Can a tummy tuck remove stretch marks?
Sometimes. During a tummy tuck, Dr. Cutolo removes sagging skin, especially from the lower abdomen – an area where many patients see significant laxity and stretch marks. Therefore, you may have considerably fewer stretch marks after your surgery. Some topical creams and ointments can reduce the appearance of stretch marks, but surgical excision is the only way to completely remove them.
Back to Top