Louis C. Cutolo, Jr., M.D., F.A.C.S.
1557 Victory Boulevard
Staten Island, NY 10314
Phone: (718) 720-9400
Tuesday, Thursday, Saturday
10:00 a.m.–5:00 p.m.

Tummy Tuck
Life changes such as weight fluctuations, pregnancy, and aging can result in frustrating fat deposits, sagging skin, and lax tummy muscles. Even the most diligent diet and focused fitness plan are not always enough to correct those problems. Board-certified plastic surgeon Dr. Louis Cutolo performs abdominoplasty, often called a tummy tuck, to help people from Staten Island, Brooklyn, Queens, and Long Island attain the smooth, firm abdomen they desire.
Take the first step to achieving that flat, taut stomach. Request a complimentary consultation online, or call us today at  (718) 720-9400 to schedule a visit.
Who Is a Good Candidate for a Tummy Tuck?
Typically, tummy tuck patients should be nonsmokers who are in good physical and mental health. Most are women who have had children or individuals who have undergone significant weight changes. A tummy tuck may help if:
Dieting and exercise have not succeeded in reducing fat deposits or correct concerns such as sagging, excess skin
You achieved a substantial weight reduction, but have loose skin and areas of remaining fat as a result
Your stomach muscles have become loose or lax from pregnancy
You are in good physical condition and your weight is stable
Dr. Louis C. Cutolo Jr.
A board-certified plastic surgeon in Staten Island, Dr. Louis Cutolo, Jr. is an active member of both the American Society of Plastic Surgeons and The American Society for Aesthetic Plastic Surgery and a Fellow of the... read on
Meet Dr. Cutolo
How Is a Tummy Tuck Performed?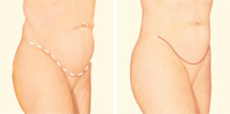 Dr. Cutolo performs tummy tuck surgery at Staten Island-area hospitals. General anesthesia is used to ensure the highest level of safety and comfort. Most patients are able to return home the same day. An overnight stay can be arranged should you so desire.
Dr. Cutolo starts the procedure by making a horizontal incision just above the pubic area. He then removes excess skin and fat before strengthening weakened abdominal muscles with internal sutures. A small incision is made around the navel to maintain its central location and keep its appearance both natural and youthful. Your skin will be smoothed and your incisions sutured before you're moved to a comfortable recovery area.
What Can I Expect After a Tummy Tuck?
Dr. Cutolo will provide you with detailed guidelines on what to anticipate during your recovery process. Immediately after your operation, light activity will be encouraged in order to facilitate the healing process and help prevent the formation of blood clots. You may experience some swelling and soreness, which can be managed with prescription medication from Dr. Cutolo. He will also prescribe antibiotics to avoid infection.
Get the Most From Your Recovery
Avoid activities that require you to lift heavy items, bend, or stoop.
Enlist a friend or family member to help you with housework, childcare, and errands.
Keep nutritious, low-sodium snacks on hand.
Ask Dr. Cutolo about topical scar care products that might work for you.
How Much Weight Do You Lose After a Tummy Tuck?
It's important to note that a tummy tuck is not a treatment for obesity. Most candidates have either had children or undergone significant weight reduction, and have been left with sagging skin around their abdomens and bulging abdominal muscles. Minor, residual fat deposits can also be addressed with liposuction during a tummy tuck.
Tummy Tuck Results and Benefits
Dr. Cutolo's tummy tuck patients enjoy a smooth, firm, stomach, and more shapely profile. The scars from a tummy tuck can usually be hidden by underwear or a bathing suit. By following a healthy diet and sensible exercise program, you can enjoy the results of your tummy tuck indefinitely.
Back to Top