Louis C. Cutolo, Jr., M.D., F.A.C.S.
1557 Victory Boulevard
Staten Island, NY 10314
Phone: (718) 720-9400
Tuesday, Thursday, Saturday
10:00 a.m.–5:00 p.m.

About Our Staten Island, NY, Plastic Surgery Office
Louis C. Cutolo, Jr., M.D., F.A.C.S.
1557 Victory Boulevard
Staten Island, NY 10314
(718) 720-9400
Hours:
Tuesday, Thursday, & Saturday: 10:00 a.m.—5:00 p.m.
Parking Information: Street parking
To provide his cosmetic plastic surgery patients from Queens, Brooklyn, and New York City with an inviting, comfortable environment, Dr. Cutolo's Staten Island office is situated in an elegant house on the corner of Victory Boulevard and Brenton Avenue in Staten Island. Built in 1955, it was the home and medical office of a prominent cardiologist until 1999, when Dr. Robert Silich, a well-established and acclaimed general surgeon, purchased it. The home was renovated at that time by prominent builder Sal Immitti and converted into a full medical office.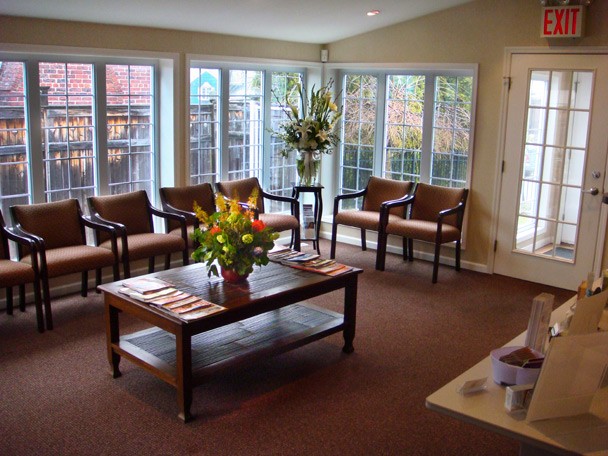 Dr. Cutolo's office has received many honors from the Staten Island Chamber of Commerce, including the Interior Design Award, Excellence Award, Natural Beauty Award, and Craftsmanship Award. The waiting room, with its abundant natural light, provides an inviting and welcoming entrance to the office. Gracing the waiting room and A Spa Above (our medical spa) are sculptures by renowned artists Bill Mack, Eric Boyer, and Ronadro. Soft "spa" music is piped throughout the office and med spa, providing a cohesive, intimate, and relaxing experience for our patients.
Driving Directions From Brooklyn
Head west on I-278.
Continue over the Verrazano-Narrows Bridge.
Take exit 12 for Slosson Ave toward Todt Hill Rd.
Turn right onto Slosson Ave.
Turn right at the 2nd cross street onto Victory Blvd.
Our office will be on the left side of the street.
The Staten Island Ferry is a classic, convenient option for patients visiting us from Manhattan.
Driving Directions From New Jersey
Head north on I-95.
Take exit 13 for Interstate 278 toward Elizabeth/Goethals Bridge/Verrazano-Narrows Bridge.
Keep left at the fork, follow signs for I-278 E/Verrazano-Narrows Bridge/Goethals Bridge and merge onto I-278 E.
Keep left to stay on I-278 E.
Take exit 12 toward Todt Hill Rd/Slosson Ave.
Merge onto Lortel Ave.
Turn left onto Slosson Ave.
Turn right onto Victory Blvd.
Our office will be on the left side of the street.
Dr. Louis C. Cutolo Jr.
A board-certified plastic surgeon in Staten Island, Dr. Louis Cutolo, Jr. is an active member of both the American Society of Plastic Surgeons and The American Society for Aesthetic Plastic Surgery and a Fellow of the... read on
Meet Dr. Cutolo
Why Visit Us From Brooklyn?
It might be easier than you realize to get to our office on Staten Island from Brooklyn. As a Brooklyn native himself, our plastic surgeon Dr. Cutolo often develops a kinship with patients from his home borough. He wants each of his patients to feel comfortable and enjoy a visit to the island, even if it's just for the afternoon. Many Brooklyn residents considering breast augmentation travel to Staten Island to have Dr. Cutolo perform the surgery. Popular highlights of the area include:
Recommended Staten Island Hotels
Hilton Garden Inn: If you're undergoing a major procedure, it may be practical to stay close to our practice for a few days afterward. The Hilton Garden Inn is a comfortable option that's only 15 minutes from our office.
Back to Top